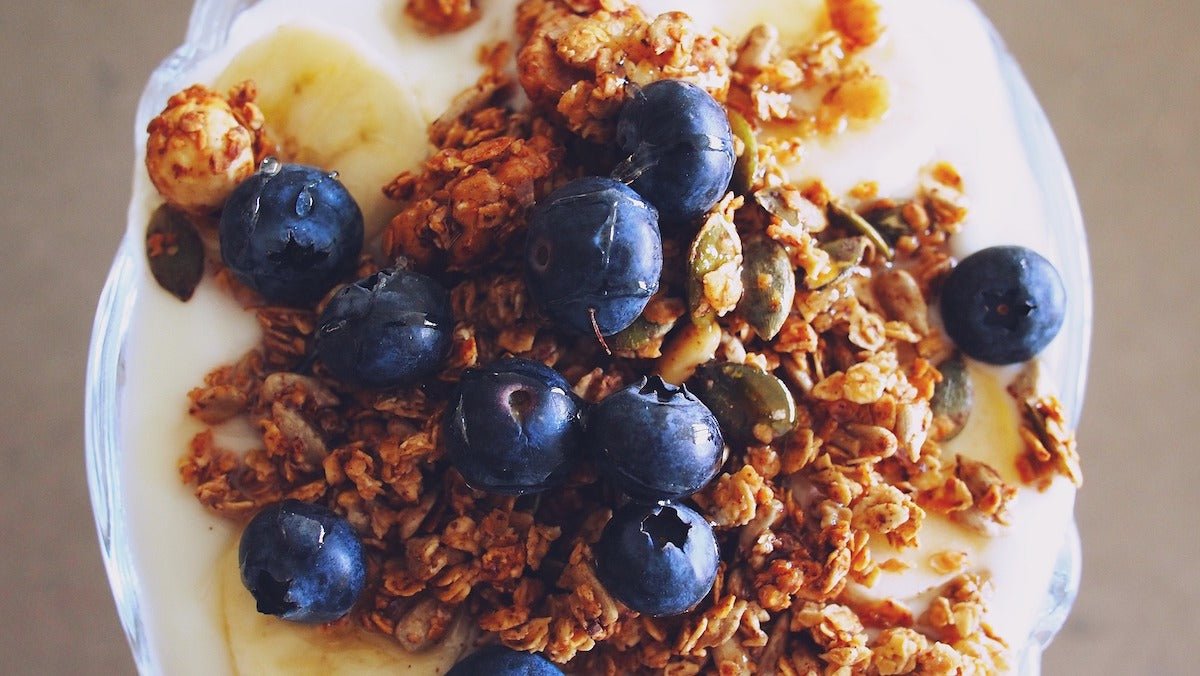 Turkey Tail Mushroom Extract: Prebiotic Breakfast Bowl
I'm going to let you in on a not-so-little secret... yogurt for breakfast rules.
Yogurt, along with many other fermented foods, is known for helping the good bacteria in your stomach to thrive – And it just so happens that Turkey Tail mushrooms are known for doing the same thing.
Photo posted to Mushroom Observer by: astro_al
The functional mushroom contains two awesome bioactive compounds: Polysaccharide Peptin (PSP) and Polysaccharide Krestin (PSK). 1
Polysaccharide Peptin is a sugar that helps stimulate proteins called "cytokines", which are important for cell signalling, and can better help our immune system respond to illness. 2 
PSP also acts as a prebiotic and is good for digestion because it increases beneficial bacteria and yeast in your stomach.  3
We encourage people to try our Turkey Tail Liquid Double Extract in the morning to support and encourage an ongoing happy digestive experience.
However, maybe some days you aren't feeling up to taking shots of straight extract first thing in the morning. And that's where this powerhouse of a morning yogurt bowl comes in.
You know what they say, happy gut – happy mind. 
Here's what you'll need to create this simple masterpiece:
Yogurt of your choice

1 Serving of Turkey Tail Liquid Double Extract

1/3 Cup of blueberries 

1/4 Cup of raw cacao nibs
1 Tbsp of pepitas (Great antiparasitic)
1/4 Cup of shredded coconut
1/4  Cup crunchy granola of your choice. (Try to find a granola that is limited on sugar and uses simple ingredients.)
How to make:
Pour your desired amount of yogurt into a bowl, and stir in one serving of Turkey Tail Liquid Double Extract.
Add the rest of your ingredients on top of the yogurt. Keep in mind that my portion sizes are only suggestions, and you can add as much or little to your dish as you would like. (However, please take it easy on the pepita seeds, as too many could cause a belly ache. I know from experience.)
Freestyle in any ingredients you think may be tasty that are lying around your kitchen. Maybe some dates. Maybe some lemon juice. Maybe some cashews. MAYBE SOME HEMP SEEDS. The options are truly endless.
Enjoy!
Tip: If you use frozen blueberries, the yogurt becomes extra cold like ice cream. 
Mushroom research: 
Saleh, M. H., Rashedi, I., & Keating, A. (2017). Immunomodulatory Properties of Coriolus versicolor: The Role of Polysaccharopeptide. Frontiers in Immunology, 8. doi:10.3389/fimmu.2017.01087

Wang HX, Ng TB, Liu WK, Ooi VEC, Chang ST. Polysaccharide – peptide complexes from the cultured mycelia of the mushroom Coriolus versicolor and their culture medium activate mouse lymphocytes and macrophages. Int J Biochem Cell Biol 1996b;28:601 – 7.

Pallav et al., Effects of polysaccharopeptide from Trametes Versicolor on the gut microbiome of healthy volunteers. Gut Microbes Journal, 2015. The Celiac Center, Division of Gastroenterology; Beth Israe
These statements have not been evaluated by the Food and Drug Administration or the Therapeutic Goods of Australia. This information is not intended to diagnose, treat, cure or prevent any disease.