Let's get kids excited about sustainable food education!
.Food education plays a vital role in childhood. Life Cykel makes it fun whilst learning along the way in the form of growing mushrooms with the added bonus of raising funds for environmental awareness in schools.
A healthy, sustainable fundraising program
Life Cykel products are proudly Australian made
No upfront payment - pay after your supporters pay
2 free boxes with every 100 ordered
Free education kit with every fundraise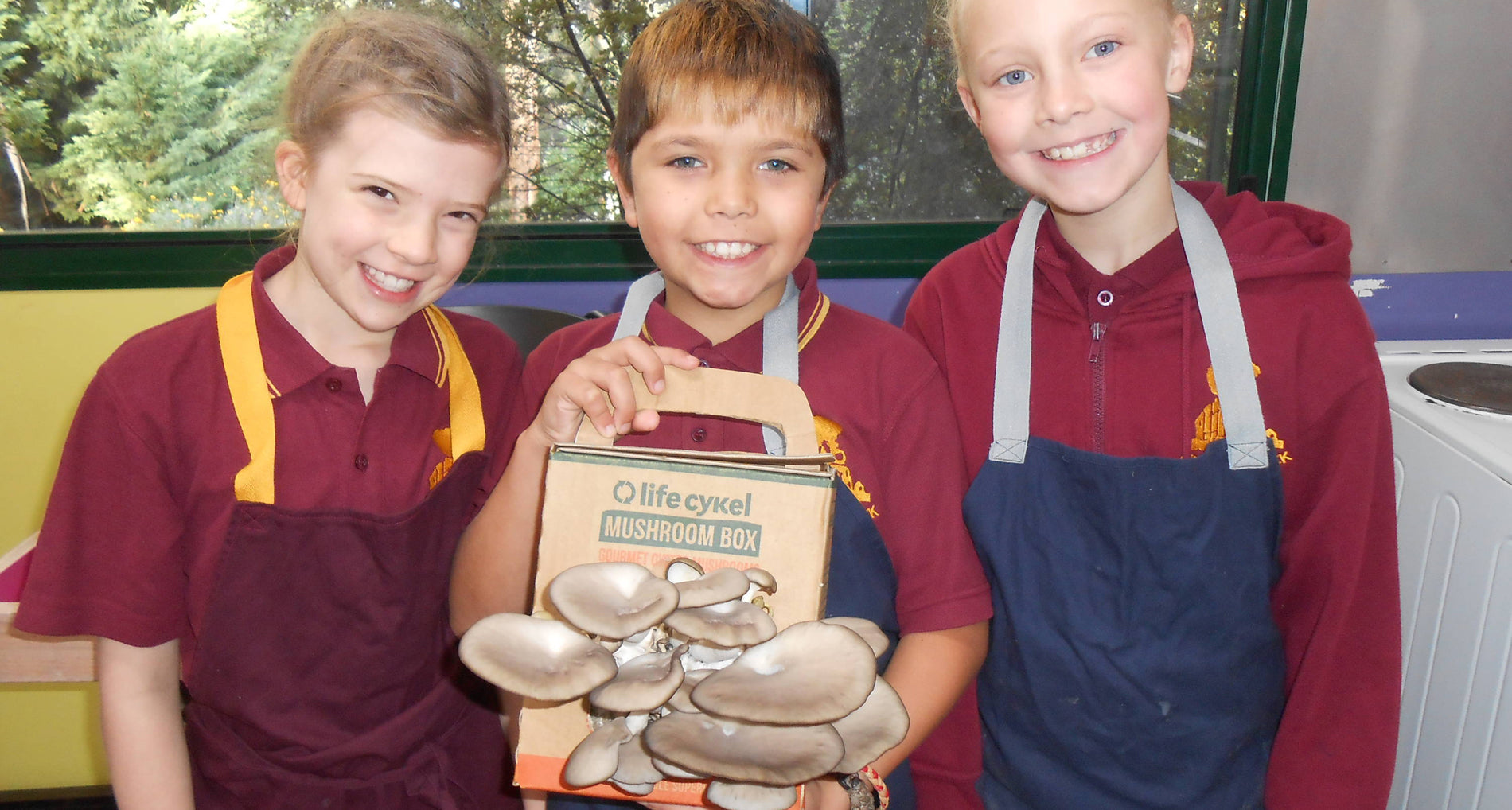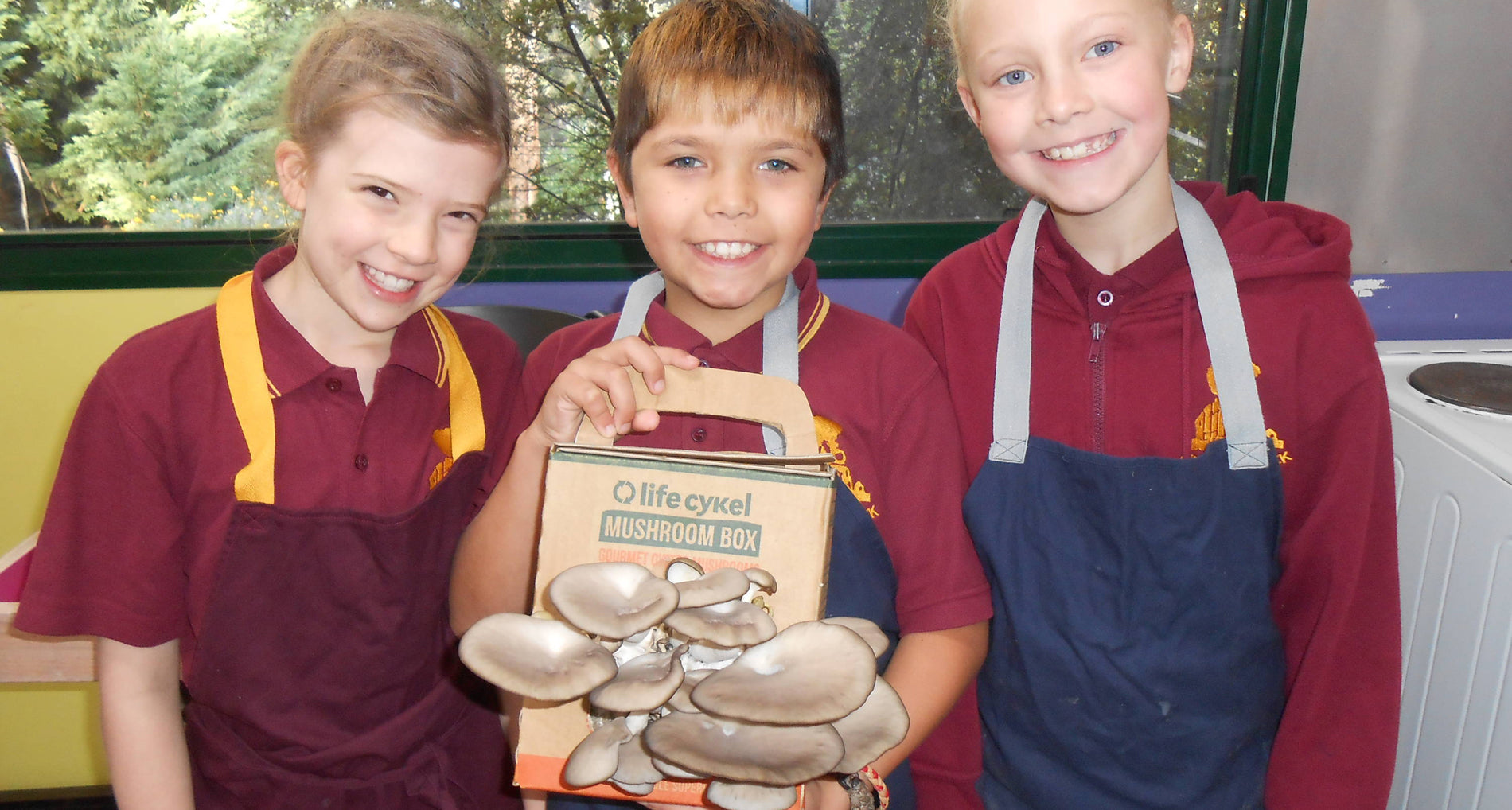 Yes... Mushrooms!
.The team at Life Cykel have created an organic food system that allows everyone to grow edible mushrooms in a tidy little recycled cardboard box that grow mushrooms quite happily inside your homes, greenhouses and classrooms.

Raise important funds to get your kitchen /garden / sustainability project off the ground!
Communicating the benefits to school leaders, class reps, environmental teams or junior land care council representatives are the perfect way to get growing in your school. Let them shine and lead the way to promote sustainable food education and environmental awareness throughout the school whilst helping raise funds for your community.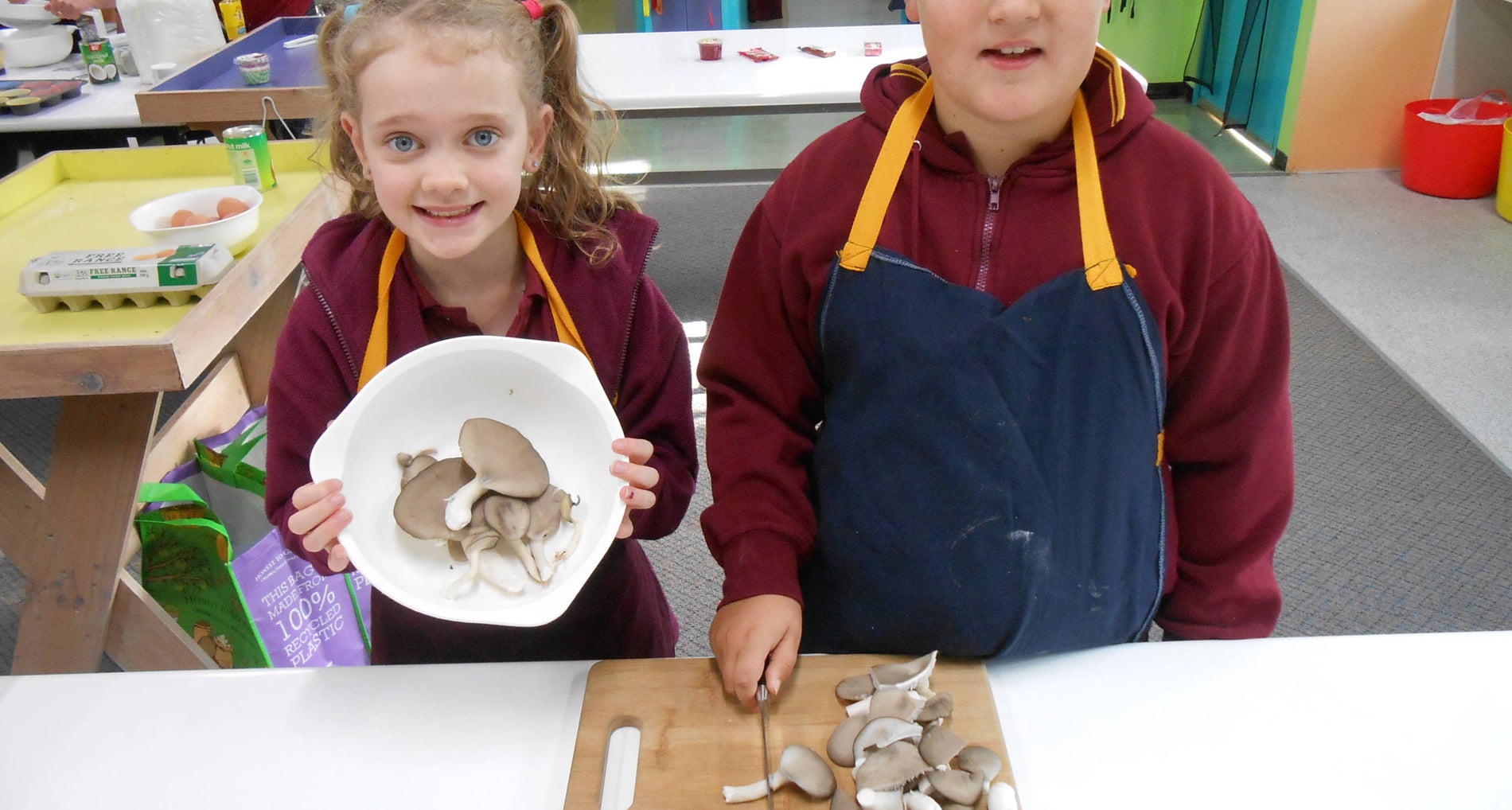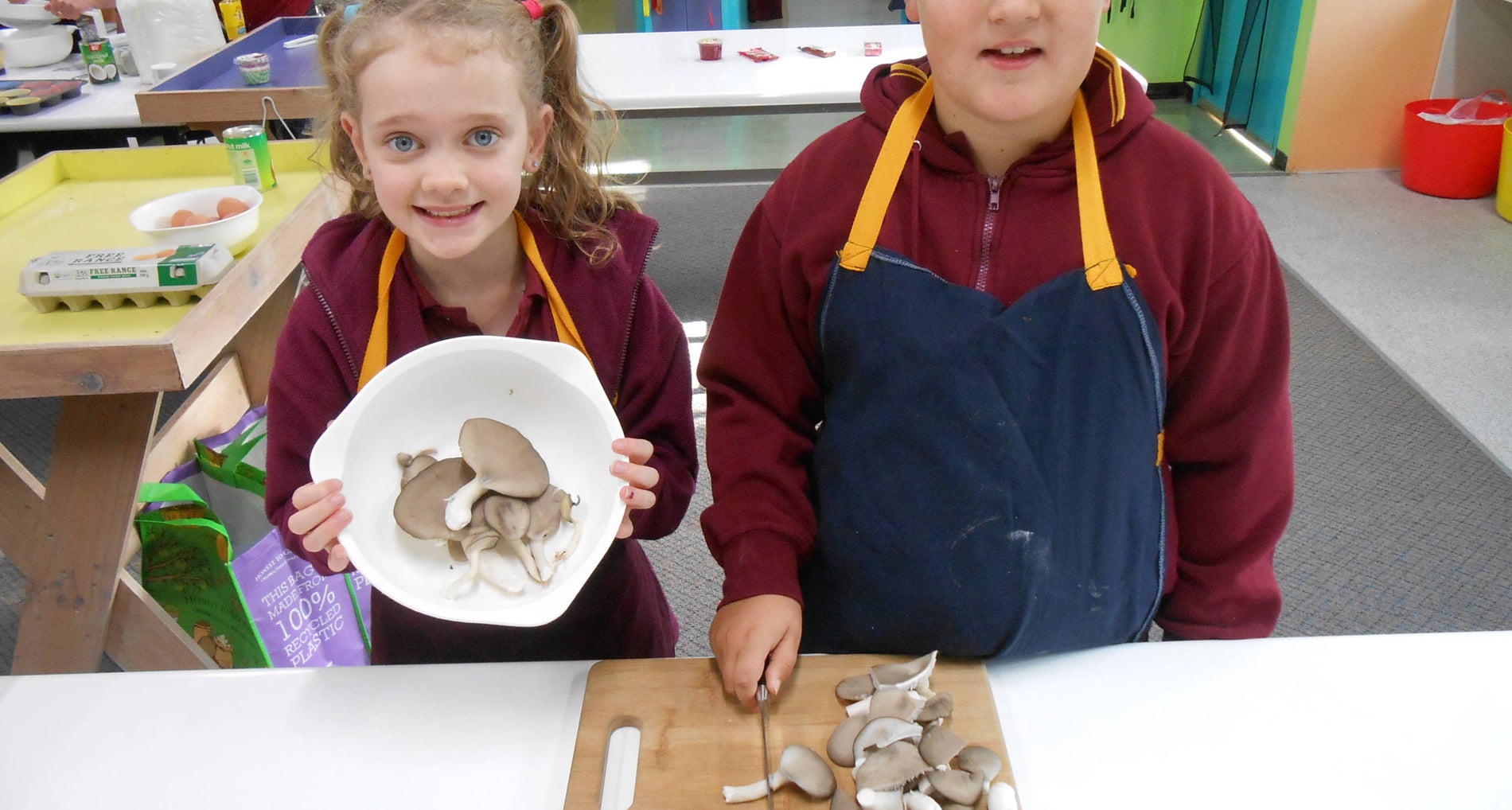 Ready, Set, GROW!
Get everyone excited about growing food indoors

Get kids cooking in class or at home and create a mushroom recipe

Get students and the wider community excited about recycling by adding the cardboard box & remaining contents into the schools compost system.

Get creative and show us your schools best recycling practices and drop the inner bag to a REDCycle collection point.

Create a sustainable school future through environmental best practices
Not just mushrooms...
We have a range of grow kits which you can also choose to include in your fundraising program!
Choose from:
Alkaline Greens Grow
KitKombucha SCOBY Grow
KitBee Pollination Grow
KitOyster Mushroom Grow Kit
ENQUIRE ABOUT A FUNDRAISER TODAY!
Fill in the form below and one of our agents will be in contact to assist you further.
Thank you!
This field is required
This field is required
This field is required
This field is required
This field is required
This field is required
Frequently Asked Questions
You buy our products at wholesale prices and sell them to your community. You bank the difference! Please know that while we provide suggested selling prices as a guide, your group can set your own prices. We will be happy to provide you with guidance and tips to help you make the most money.
Any Australian small local group affiliated with a charity, school, recreational group/club that has members. Groups must be approved by Life Cykel before holding the fundraiser. It's simple to start, just fill in the enquiry form, we'll be in touch and you'll receive everything you need for a successful campaign.
Why should we choose Life Cykel?
Life Cykel allows you to raise money in a sustainable and educational way. Children gain a home grown food connection and curiosity by growing mushrooms and microgreens by themselves. Life Cykel are connecting people to nature with delicious and convenient functional mushroom products in the forms of drinks and grow at home kits. Promoting a circular economy by using recycled coffee grounds Life Cykel urges others to join the Mushroom Movement and turn more waste into food!
How does the WA Education Department Healthy Food Policy affect Life Cykel fundraising?
Food rewards provided to students must comply with the policy, including food vouchers. Activities and rewards consistent with the policy will also support the school curriculum. Rewarding with confectionery sends the wrong message and reinforces the RED foods, which are already being consumed frequently and excessively by children and young people. Life Cykel fundraisers support this policy.
http://det.wa.edu.au/healthyfoodanddrink/detcms/portal
Is it only mushroom grow boxes we can sell?
No, you can also now sell our other kits - Kombucha and Bee Pollination & Microgreens Grow kits.
Are there any upfront costs?
It is risk free. It does not cost anything to hold a fundraiser and we don't require money from you until after the boxes have been sold to your supporters.
We will send your fundraising details out within three days. You start and finish when you are ready.
Is there a minimum order?
The minimum order is 20 boxes. Please contact us on fundraising@lifecykel.com if you would like to order less than this.
How do I make my fundraiser a success?
Life Cykel will provide PDF flyers. Pass out the information to everyone you know. We've also written up a list of fundraising tips to maximise your efforts.
What happens when I place my order?
Your order starts being processed as soon as we receive it! After ordering, you will receive an email to confirm your order. All Account orders are confirmed over the phone before they are processed. You will then receive a confirmation by email. If there are any problems with your order (like stock availability, or specific delivery or pick up requests), we will be in touch to work things out.
What method of payment is accepted?
You can pay by phone, post, credit card or EFT.
How soon after we've ordered will we receive our order?
We aim to have your delivery with you within seven days. We often deliver quicker than this. If your schedule is tight please let us know and we will do our best to get your order out to hit a deadline.
Use this section to welcome customers to your store, say a bit about your brand, or share news and seasonal promotions.
What is the delivery cost?
We don't charge you for delivery. Yes delivery is free so you maximise your profits. Only one fundraising order per year is valid for free shipping so order everything at once.
What is the best way to sell?
This can vary from group to group, depending on who is selling. Take a look at our fundraising ideas. We care about you and your fundraiser and are here to help.
Can I return any unsold carry boxes?
Life Cykel Fundraising can't take back any unsold or excess products. Please order as many as you need.
For more FAQs on How to Grow your boxes, please click here
Fundraising order form
Click here to fill out the order form
Fill in the quantities you wish to order below. We will be in touch to confirm and arrange delivery or answer any questions.
Thanks!
This field is required
This field is required
This field is required
This field is required
This field is required
This field is required
This field is required
This field is required
This field is required
This field is required
This field is required