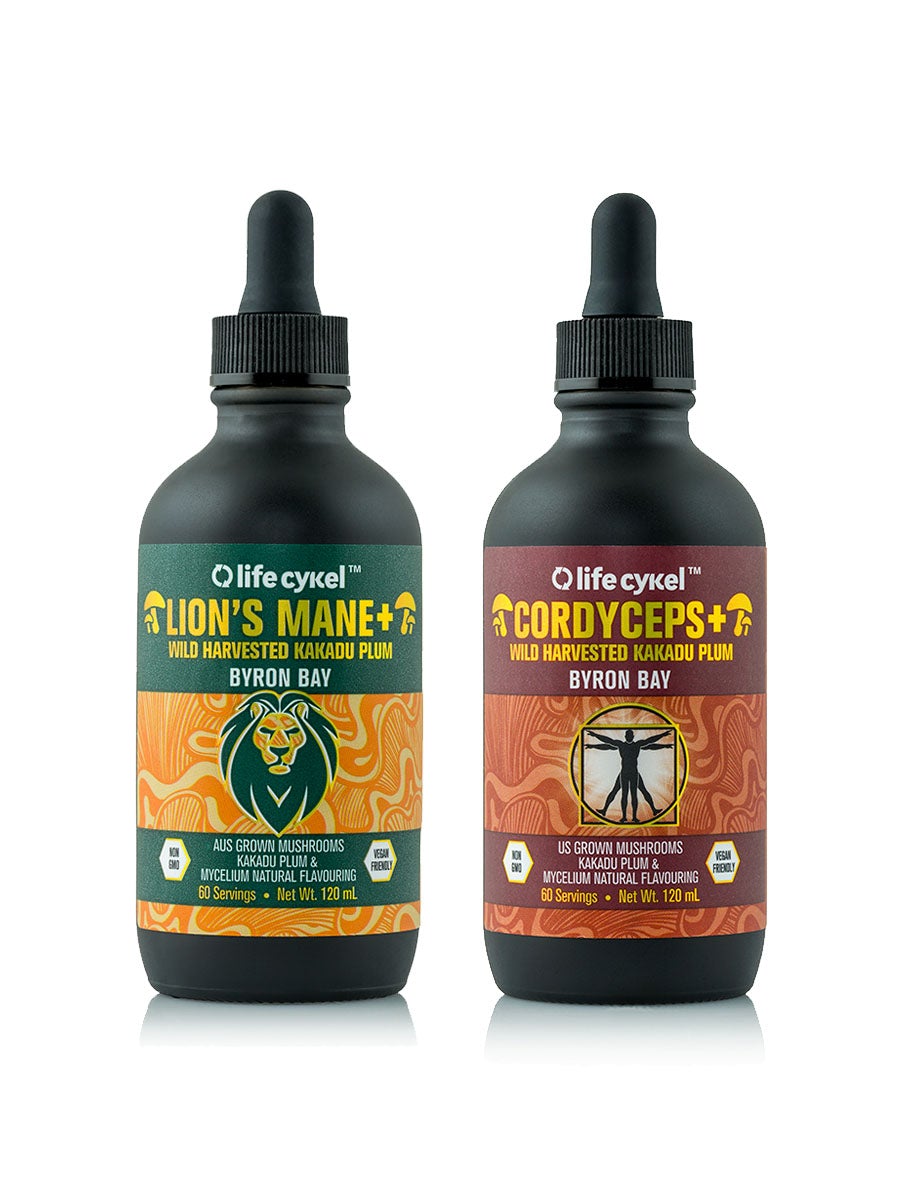 Performance Pack - Lion's Mane and Cordyceps
Tackle any challenge!
Get ready to perform with Lion's Mane and Cordyceps liquid extract flavourings.
- whether it's in the gym, out in the open air or behind your desk. This dynamic duo of Lion's Mane and Cordyceps will allow you to manage your day with energy and concentration like never before. 
Choose from our 60 or 120ml options:
120 ml bottle (60 day supply - 2 ml a day)
60 ml bottle (30 day supply - 2 ml a day)
Non-GMO
Vegan-friendly
Australian sourced ingredients
Gluten free
These products are extract flavourings
Directions: Add 1 serving of Cordyceps liquid extract and 1 serving of Lion's Mane liquid extract to your water, smoothie, tea or coffee
Serving size: 2ml - 1/2 a dropper full is approximately 1ml, you can use this as a guide for the recommended serving size.
Storage: Store in a cool, dry place
What comes in the pack:
One Bottle Lion's Mane Liquid Extract (60ml or 120ml)
INGREDIENTS: Distilled Water, Organic Alcohol (20-24%), Australian Hericium coralloides. (Hericium coralloides. Mycelial Biomass, Hericium coralloides. Fruiting Body), Natural Wild Harvest Kakadu Plum.
One Bottle Cordyceps Liquid Extract (60ml or 120ml)
INGREDIENTS: Distilled Water, Organic Alcohol (20-24%), Cordyceps militaris. (Cordyceps militaris. Mycelial biomass and Cordyceps militaris. Fruiting Body), Natural Wild Harvested Kakadu Plum.
Please note - we do not deliver to countries that do not allow alcohol based products in their postal service. In these cases we suggest to order our mushroom powder products instead. Thank you for your understanding.
Please be aware that if you are shipping internationally you may be subject to custom duties. These charges are the sole responsibility of the customer purchasing. Please read our shipping policy carefully before purchasing anything. Thank you.
The company offers a money-back guarantee if you are not completely satisfied within the first 7 days of receiving it. Customers need to send the full product back to our address at the customer's cost.
 Mushroom Research
[2] Wittstein, K., Rascher, M., Rupcic, Z., Löwen, E., Winter, B., Köster, R. and Stadler, M. (2016). Corallocins A–C, Nerve Growth and Brain-Derived Neurotrophic Factor Inducing Metabolites from the MushroomHericium coralloides. Journal of Natural Products, 79(9), pp.2264-2269.

[3] Hirsch, K.R., Smith-Ryan, A.E., Roelofs, E.J., Trexler, E.T. and Mock, M.G. (2016). Cord

yceps militaris Improves Tolerance to High-Intensity Exercise After Acute and Chronic Supplementation. Journal of Dietary Supplements, 14(1), pp.42–54

[4] Xu, Y.-F. (2016). Effect of Polysaccharide from Cordyceps militaris (Ascomycetes) on Physical Fatigue Induced by Forced Swimming. International Journal of Medicinal Mushrooms, 18(12), pp.1083–1092.

[5] Li, X.-T., Li, H.-C., Li, C.-B., Dou, D.-Q. and Gao, M.-B. (2010). Protective Effects on Mitochondria and Anti-Aging Activity of Polysaccharides from Cultivated Fruiting Bodies of Cordyceps militaris. The American Journal of Chinese Medicine, 38(06), pp.1093–1106.

READ MORE