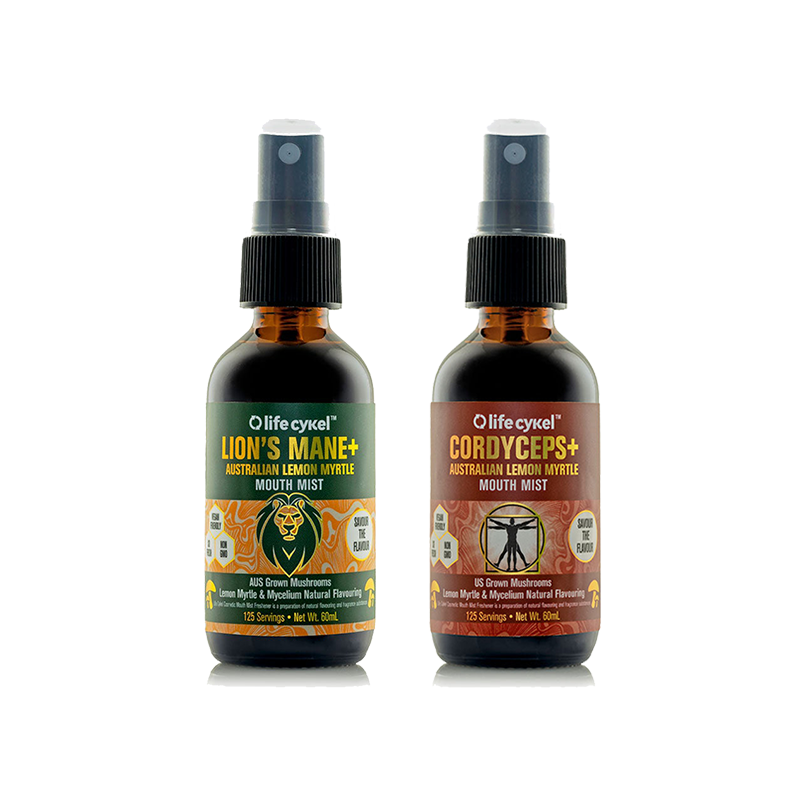 Performance Pack Mouth Mist - Lion's Mane & Cordyceps
Whether it's in the gym, out in the open air or behind your desk. This dynamic duo of Lion's Mane and Cordyceps will allow you to manage your day with energy and concentration like never before. 
Our Mouth Mists are alcohol based and engineered in our labs in Australia and USA using a unique double extraction process, they are full spectrum which means that we use both the mushroom fruiting bodies and the mycelium in our extraction process to create a well-rounded, high quality product.
Our Mouth Mists allow for the most effective and convenient use, so you can spray whenever you need to and easily carry on with your daily activities. The Mouth Mists quickly freshen your mouth leaving you uplifted through the day.
All of our Mouth Mists are infused with Lemon Myrtle, an elegant native Australian shrub with soft green leaves and white feathery flowers that releases a beautiful creamy lemon and lime fragrance recognisable to many people. The flavour profile of Lemon Myrtle is distinctively lemony and zesty and leaves a pleasant lingering aftertaste that cleanses the palette. Some people say it is more lemon than lemon.
Australian Indigenous people have used Lemon Myrtle leaves for centuries. It was traditionally used to treat mild illness such as coughs, colds and stomach sickness
READ MORE