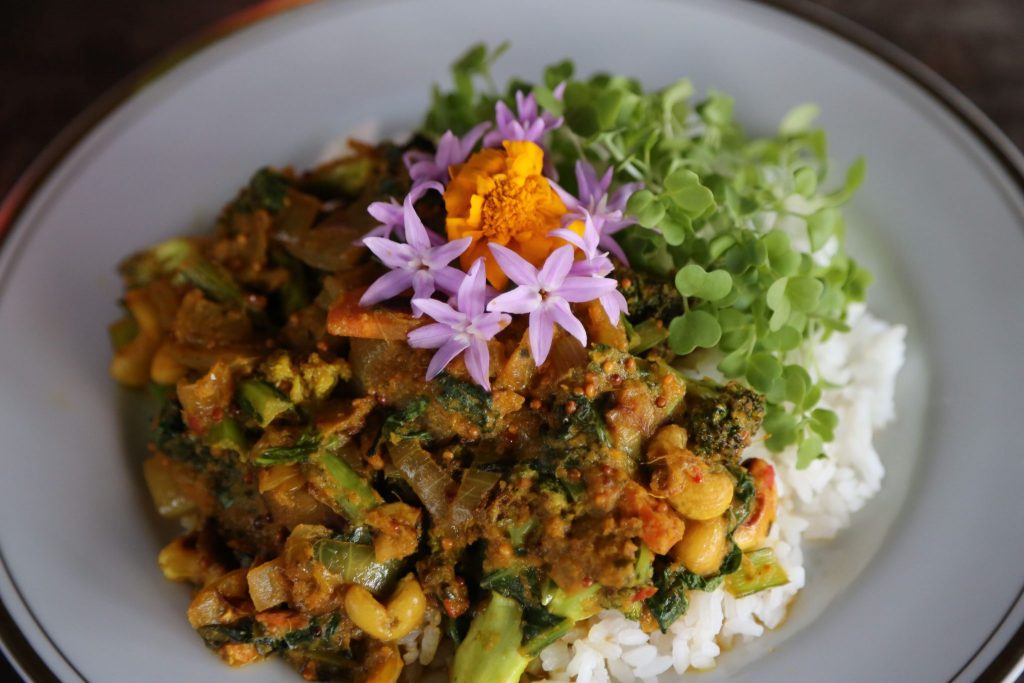 Rainforest Bounty Curry with Alkaline Greens
THIS VEGETABLE CURRY HAS BEAUTIFUL NATIVE AUSTRALIAN FLAVOURS AND IS GREAT IF YOU NEED SOME ALKALINITY FOR YOUR BODY.
INGREDIENTS
Makes 4 meals
1 jar of Rainforest Bounty curry base
4 harvested cups from your Life Cykel Alkaline Microgreens box
250g Organic white rice
1 onion
2 tbs olive oil or coconut oil
2 tbs mustard seeds
2 cups of broccoli, cut into small pieces
1 yau choy or other Asian leafy greens, washed and cut up
1.5 cups of coconut milk
1/2 cup raw cashew nuts
METHOD
1. Boil the kettle. Place rice in pot, add double the amount of boiled water and boil until ready. (or use rice cooker)
2. Meanwhile, cut up the onion. Heat oil in wok and add onion, wok for a minute then add mustard seeds and cashew nuts.
3. When the onion has been glazed, add cut up broccoli and leafy greens. Wok for 5 minutes.
4. Add Rainforest Bounty curry base, stir through and wok for a minute.
5. Add coconut milk, stir through and wok for another 5 minutes then turn off heat.
6. If you're not using a rice cooker, pour off excess water, then let rest with lid on for a few minutes.
7. First serve the rice, then the curry on top.
8. Cut your
 Alkaline Greens
with scissors and use as garnish on top.
9. Garnish further with flowers (the purple flowers in the pictures are garlic flowers, they are edible and add lots of flavour)
10. Serve and enjoy!!
This curry also makes a great base if you want to add meat or meat substitutes. Just add these at step 2 as desired.